Insulation Basics: Attic Edition
Insulation is not only the key to keeping your home warm in the winter and cold in the summer, but also to decreasing your electricity cost.  Insulation, when properly installed, can lend a huge hand in accomplishing all three of those things.  Attics present a great opportunity in finished homes with little to no access to floor and wall insulation.  I'd like to take a moment to discuss why and how you should insulate your attic.  (These tips also apply to crawl spaces if you have one)
What is insulation?
Insulation slows the rate of heat loss from a home.  When there is an outside temperature difference from that inside the home, heat moves to the cooler space.  Therefore, if it is unbearably hot outside (think Georgia in late July), the outside heat will attempt to enter your house, forcing the cool air out.  The opposite is true during the winter where the warm air in your house will escape to the outside via any means necessary.
You may have heard the term 'R-Value' when discussing insulation.  An R-Value is simply the rating that describes an insulation's ability to resist heat transfer.  Specifically, it's the amount of heat resistance per inch of thickness.  Different types of insulation will offer different R-Values per inch.
Why insulate?
Insulation keeps the warm air where it's at, thereby maintaining the desired temperature inside your home.  The less your air compressor, heat pump, or furnace works…the better that is for your electric bill.
Types of insulation.
The most common type of insulation is fiberglass batt or blanket insulation. It requires about 12" of thickness to achieve an R-38 value.  It is resistant to moisture, mildew, fungus, and vermin.  A common mistake homeowners make when installing insulation is the placement of the moisture resistant paper (Kraft paper) that lines one side of the batt or blanket.  A simple rule of thumb is that the paper ALWAYS goes against the 'warm in the winter' side.  Therefore, when placing this type of insulation in between ceiling joists in your attic, ensure the paper is down.  Likewise, when placing this insulation in between floor joists in your crawlspace, the paper is up.
Rock Mineral/wool batt and blanket insulation is slightly more effective than fiberglass requiring only about 10.5" to achieve a value of R-38.  It is often dark gray in color and has good resistance to fire.
Loose-fill insulation isn't necessarily a type but a method of installing insulation.  Just as it sounds, it's loose and typically sold in large bags and is blown into the space using a specialty machine.  It is historically not as efficient as batt insulation and other types because of the fact that it is loosely blown in and will settle over time, requiring regular upkeep.
Types of loose-fill insulation include fiberglass (requires about 15" to meet R-38), rock wool (13" for R-38), cellulose (10.25" for R-38), and vermiculite (almost 16" for R-38).
Rigid Board Insulation is most often used on foundation and masonry walls, under siding, and under roofs.  Fiberglass Rigid Board has an R-Value of about 4/inch, meaning it would take almost 10" to achieve R-38.  Other types of rigid board insulation include Polystyrene and Urethane Polyiso.
Site-foamed Insulation is insulation that is foamed in-place on site, whether poured or sprayed.  Common types of this insulation are Urea Formaldehyde; however, this is no longer used because it is suspected of being a health hazard, Urethane Foam, and AirKrete.  The latter is fire-retardant but not water resistant, so it should never be installed in a location susceptible to any level of moisture.
R-Values as recommended by the U.S. Department of Energy
| | |
| --- | --- |
| R-3 | Plumbing piping in unheated areas |
| R-8 | For heating ducts in unheated areas |
| R-13 to R-25 | Exterior framed walls and R-19 for crawl space and basement walls, if crawl space or basement is heated |
| R-21 | Floors over unheated spaces and knee walls; R-30 for roof slopes |
| R-30 | Ceilings below attics (most southern states) |
| R-49 | Ceilings below attics (most northern/mountainous states) |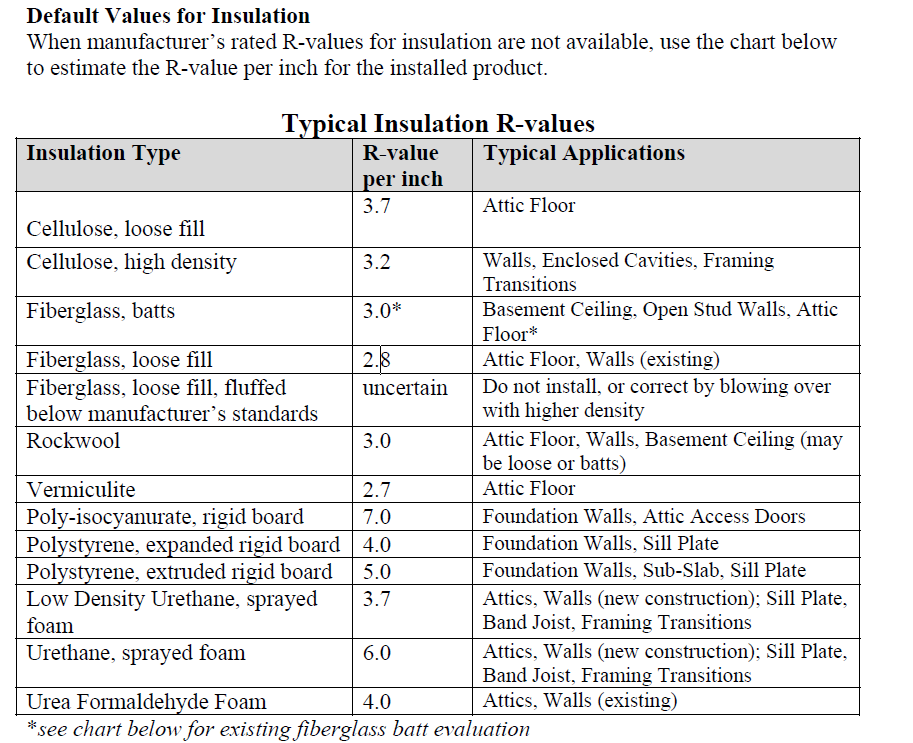 Where to insulate?
When most of us purchase a home, the insulation is already installed.  That said, it is then up to you to maintain that level of insulation in your home or to increase it if necessary.  The most common space a homeowner can modify existing insulation is the attic.  Generally, attics are unfinished and unheated, affording easy access to and the necessity for insulation.  Insulation should be installed, Kraft paper toward the heated side, in between the ceiling joists.  If a second layer is desired, it should be one without a vapor barrier (Kraft paper) or, if it has a vapor barrier, the vapor barrier must be installed in the opposite direction (i.e. the vapor barriers on opposite side of the layer).
Where not to insulate?
Never insulate between rafters. This will allow the heat to escape the home into the attic and become trapped, causing any number of moisture related problems.
Never insulate over attic vents.  Attics are typically vented using gable, soffit, and ridge vents, or any combination of those.  These vents should always be left exposed and never covered with insulation.
The video below from This Old House does a great job of explaining the basics of insulation.
Our Pride! Your Trust!